Theatrical experience with professional actors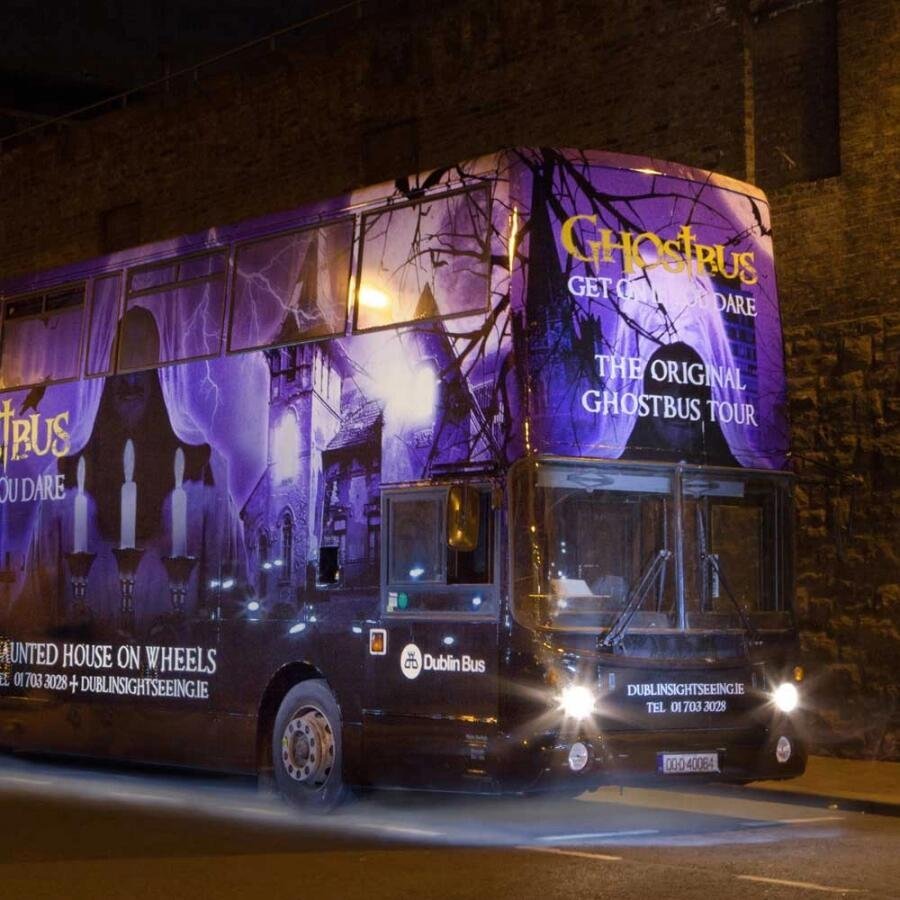 From sinister surgeons and
bodysnatchers to ghosts and ghouls...
discover mythological villains and real ones
too, buried deep in Dublin's gruesome past. Visit a medieval vault at Dublin Castle and a hidden city graveyard.

Original Ghostbus Tour
The Ghostbus tour gives you a glimpse of Dublin's underbelly, the dark side to "Dublin's Fair City" you've never seen or ever knew existed. The Ghostbus storytellers bring tales from Dublin's dark history to life and you'll experience a crash course in the art of body snatching form the handbook of Dr Samuel Clossey himself as well as visiting the scenes of some of Dublin's most horrific and shocking paranormal activities, including a hidden city centre graveyard and the medieval vaults that lie beneath Dublin Castle.
Your Ghostbus ordeal begins as soon as you get on board. First make your way through a series of sinister, maze like chambers, and then mount the steps to the Victorian theatre above, the scene of the night's events. Blood red velvet curtains enclose the space and suppress the screams from within as the tour takes off.
The Ghostbus Tour Storytellers are professional actors who strike a perfect balance between comedy and horror. They throw themselves into their dark roles to the point that it's sometimes hard to know if they are still acting!
Ghostbus Kids Tour
Customers have been asking us for years "why can't we take out kids on the Ghostbus tour" and the simple answer was it's just too scary and creepy for young impressionalbe minds! But now at last we've launched a tour of Dublin's dark side especially for children. The Ghostbus Kids Tour is a fantastic adventure for families with kids aged from 7-14 years of age.
You'll be brought on a whirlwind tour of Dublins darkest corners and meet the sinister characters who once lurked there on a tour that combines scary (but not too scary) moments, with loads of fun, interactive games, educational stories based on historic events from Dublin's past and a quiz to test what they've learned.
The Kids tour is ideal for School Tours as well as birthday parties and private hires, and offers great value with child, adult and family tickets available.
'' 
Great Tour!
I was literally scared the entire time. Great fun and really spooky!
 ''